Wartime Kyiv via volunteers' stories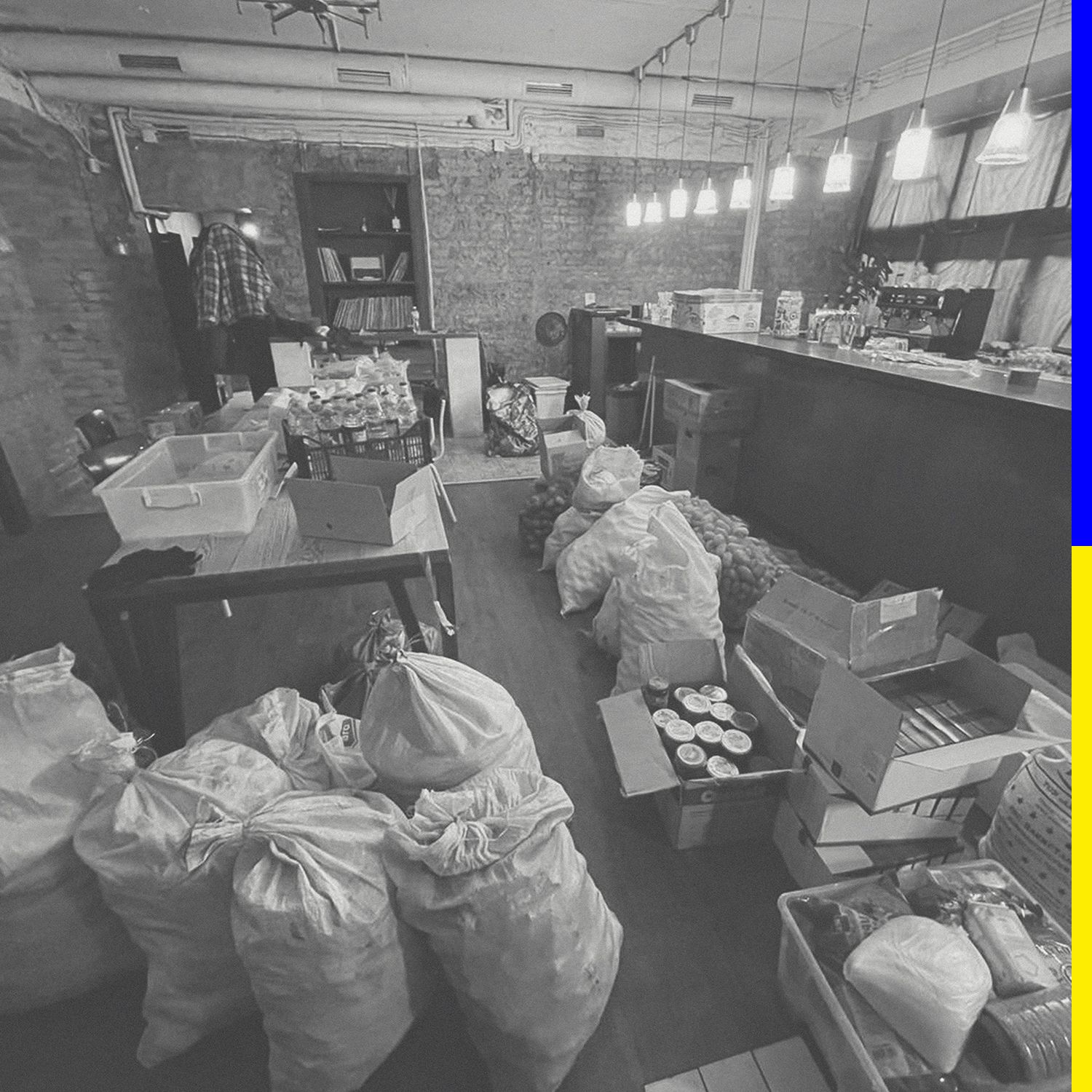 19.04.2022
​​On February 24th, 2022, the lives of millions of Ukrainians changed in a blink of an eye. The full-scale war that erupted that morning, immediately including Russian missile attacks and tanks on Ukrainian sovereign territory sparked a powerful volunteer resistance movement in one day. In the same way as it did eight years ago when Russia has occupied the part of Ukraine.
Kyiv, being the capital, has become one of the main goals of the Russian aggressors. Instead, Kyivites and businesses began to help the military and work with them to protect the country's right to life and independence. Many of them became volunteers for the first time.

How did you start volunteering?
We started raising funds to support the army on February 22, after the news of the recognition of the "independence" of the LDNR. We decided to remind that everyone is a unit of society, but only when together we are great power. On that day, we donated all the money we earned from filter coffee to the Ukrainian Armed Forces.
On February 24, our team worked in the format of "psychological assistance".We received guests, prepared breakfasts and coffee, hugged a lot and did not give up. On February 26, our volunteer headquarters started working and we came together to become one organism. They began to actively prepare food for the Armed Forces, Troops and medics. When the Kyiv Volunteer restaurant community began to unite, they joined up.

How many people are on the team?

There are currently five on the core team and 10 volunteers. We quickly reformatted our positions. Between cooking, I communicated with partners, neighbors, and people in need. The managing mates and sisters of the Babentsovs took active roles in the cutting-edge kitchen. Our smm manager was engaged in remote logistics and directed volunteers to us. They began to function quickly and continuously.
How do volunteer days go?
The first 25 days of the war we all lived on the -1 floor. But gradually everyone returned to their homes. Every morning now, per usual, we come to the «mates». Volunteers accompanied by the manager prepare food for the military and medics. Our barista Sashko meets guests every day for coffee and anecdotes. Some of the daily activities have remained, but now our focus is on help and victory. We are still collecting humanitarian aid for the Kyiv region.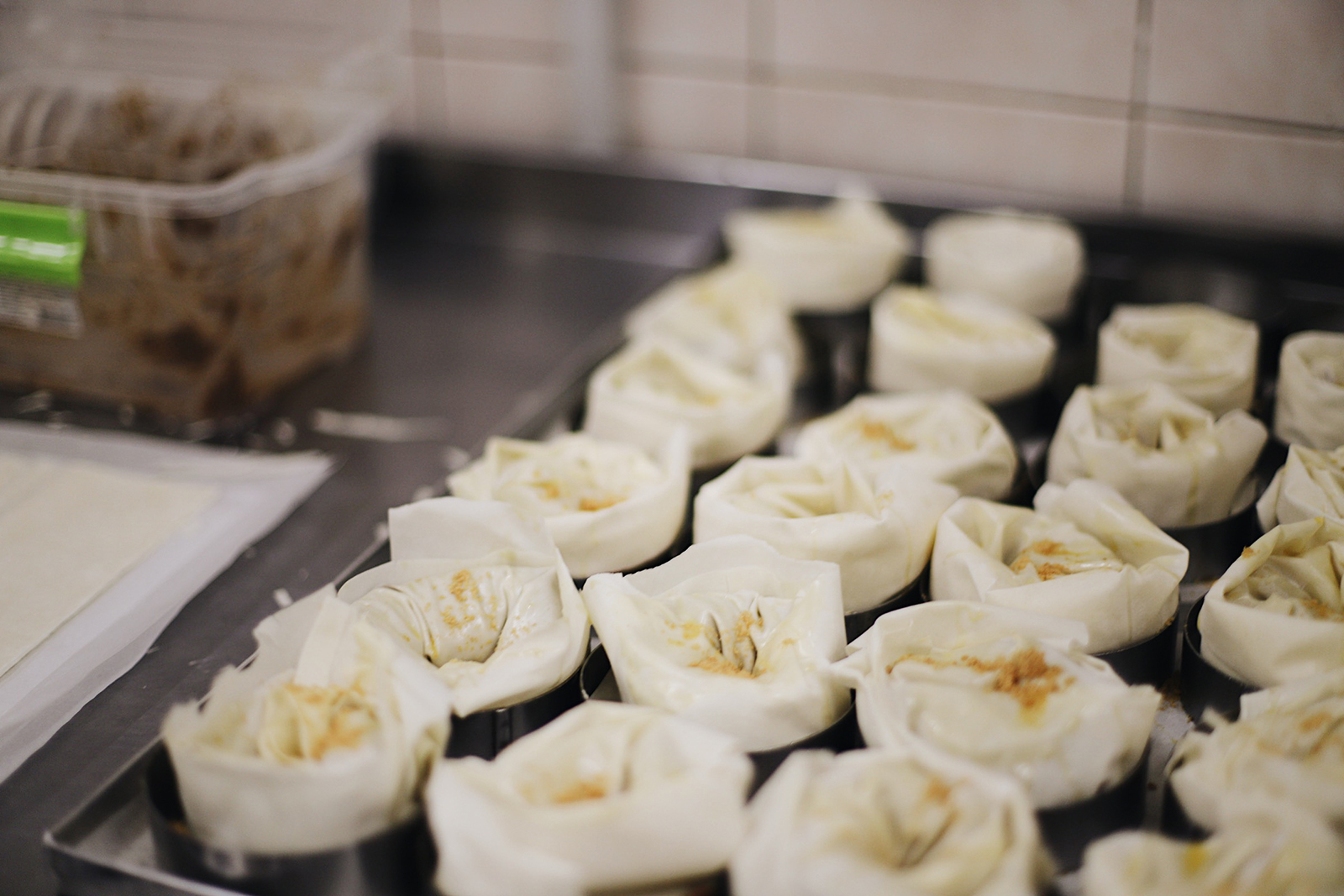 What were the most difficult and happy moments?

The happiest thing is to see a community that is being created every day and getting stronger. I feel incredibly proud to be among such people and to stand in the culinary defense frontier with them.
The most difficult part was the beginning, when you are confused by the news and try to abstract from panic.
What help do you need now?
Tell others about our volunteer work. Humanitarian aid that we will take to those in need. Help our business by coming for coffee and dessert, as if before the war.
We are grateful for all the donations we were able to get. We have now stopped collecting and we are spending the funds raised on products. If necessary, we will start collecting again. Thank you all for your support.
What are your dreams and plans after the victory?

My dream is to rebuild the country and to feed everyone with a breakfast. We can already visualise how all the horrors finish, we gather at our summer house and arrange a loud barbecue, with DJs, club mate (fizzy tea drink) and plenty of sweets.
How did you start volunteering?

On February 24, I woke up at 7 am and the first news from Alexei was that the war had begun. I turned off the flight mode on my phone and instantly received a lot of messages: everyone called or wrote to leave Kyiv quickly. However, we immediately decided to go nowhere. During the first few days, this decision was only strengthening: we had a lot of requests for help here in the city. Give a lift to the train station, from the neighborhood to the center, to bring sleeping pads, food, etc. - we immediately tuned in and became volunteers. It was a hearts' decision. Of course, we weighed the pros and cons. We believe, that for two healthy and brave adults, it was logical to stay and help those who need it. And were there many.
How many people are on the team?
Two of us use my car: I'm driving, and Alex navigates and helps with loading/unloading. He takes photos of the process that convey the atmosphere of our trunk, "it's full of smiles and food", as my friend and talented artist Lilith Sargsyan said.
The story with the photos turned out to be very relevant. Many people left Kyiv, and it's important for them to see their favorite streets, the sky, and the situation in the city. For me, this is an opportunity to calm them down and to show that there are actually people in the city, who are alive, healthy, and helping. Ability to broadcast normality in this situation and add to the Instagram feed some smiles, because they, like humanism, are needed at all times.
How do volunteer days go?

At first, we rushed to find everything people asked for: from socks to armor. After a while, we chose a focused direction - food and delivery. Joined Kyiv Volunteer, a self-organized 20 restaurants of Kyiv, and engaged in active deliveries in the city. In the morning and all day we receive inquiries: pick up and deliver lunches, ingredients for cooking (meat, flour, fish). We stop for lunch and coffee. When we have some room, we pick up people, especially the elderly. After all, public transport is infrequent.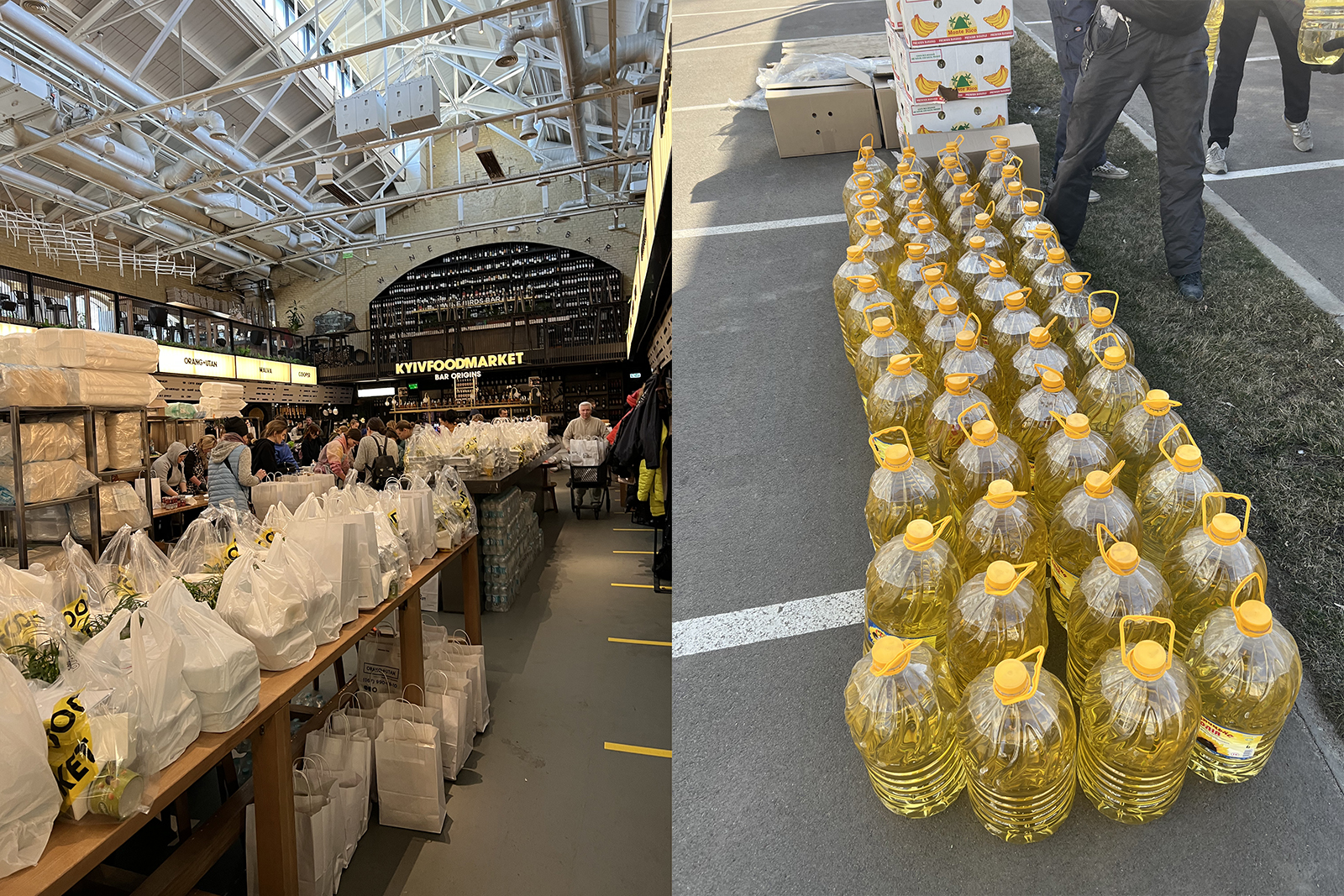 What were the most difficult and happy moments?
It was difficult in the first hours of the war due to complete uncertainty. The second time it was difficult when russians started bombing the city where the parents live.
Happy moments - when the first coffee shops opened, and you could drink coffee. Or meet friends in the city! It is a joy to realise how many lunches were deliver every day. When the elderly women smile and thank sincerely. When there is great support and reaction to what we do: reposts, donations, feedbacks. It is joyful every day that we can do what is useful and necessary.
What help do you need now?
We'll be delighted to reposts, reactions, and donations. I even opened a PayPal account :)
What are your dreams and plans after the victory?
I'm dreaming of coming back to my main job: producing the KYIVNESS. Gathering brands, inviting guests, making a selection of wine and coffee, and enjoying music and people in the historic location of your favorite city.
My dream is to return to travelling Europe and go to the States, where my host family lives while studying there. They have been very supportive of me since the beginning of the war.
My dream is to send or better personally deliver postcards with a thank you note for the support. Without this, volunteering on such a scale would be impossible.
Alex also dreams of getting back to work as soon as possible. His field is construction, so there will be something to do in the near future.
How did you start volunteering?

The initiative dates back to the duty in Okhmatdyt in August 2015. Since then, we have been on duty at the Blood Centers of Ukraine every week. We run Art Donation and Blood Charming projects. As a public organization, we promote conscious, voluntary, and gratuitous blood donation.
How many people are on the team?
Before the war we had 50 volunteers, now we have up to 15.
How do volunteer days go?
We assist Blood Centers in finding donors, medical equipment, and general needs. We cooperate with the taxi service, take doctors home. Although most live in hospitals.
We have launched the "Stop the Blood" project, where we are fundraising for hemostatic agents: turnstiles, bandages, etc. For six years we were known as ambassadors of a conscious and safe blood donoring. Now we have an additional task - to stop the blood loss of soldiers of the Defense Forces.
What were the most difficult and joyful moments since the beginning of the war?

At first, they were constantly worried about everyone until everyone moved to a safe place. It was scary to chat and not get a response from someone.

The happiest moment, I hope, is ahead - when our victory is proclaimed. And there was another one when the relatives of our volunteer managed to leave Mariupol on foot.

Donate to our project: Stop the Blood
What are your dreams and plans after the victory?

To meet the team and embrace everyone is the plan. The dream is to eliminate the shortage of donated blood in Ukraine.
How did you start volunteering?

Firstly, together with the owners and managers, we decided to distribute food stocks that were in the refrigerator of the cafe. While looking for someone who needed it, we've found a chat with food requests. Then several volunteers asked for help. So on February 28, we started cooking.
How many people are on the team?
Right now we have approximately 10-15 permanent volunteers.
How do volunteer days go?
We are already coming here like for a permanent job. We think about what we will cook, and set the timing of serving and cooking all day.
What were the most difficult and joyful moments since the beginning of the war?
The most challenging occurrence is that our country is at war.
The happiest thing is that we make new friends. We have formed a team of permanent volunteers and more than just acquaintances.

It is gratifying that the whole country is united as never before. This support is incredible. I can't put into words the feeling when so many people are doing different things to help. We are inspired by others and are happy to do our job.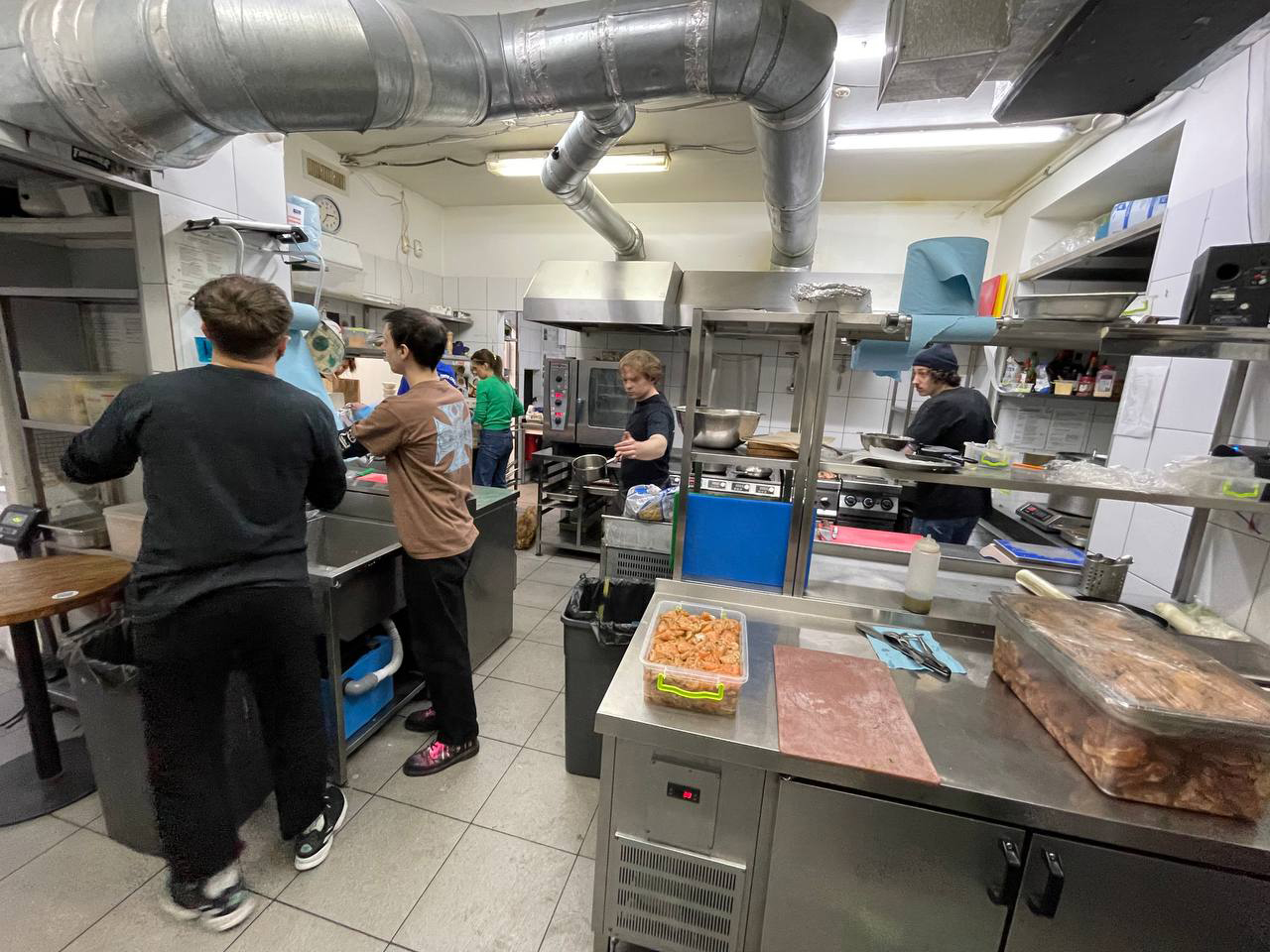 What help do you need now?

We will be glad and grateful for any help. We started to resume work at the cafe little by little. We are currently offering drinks, later we plan to start a partial work of the kitchen. You can visit us and order something - for example, coffee. Help with products and their logistics for volunteer work. Engage financially – https://taplink.cc/kosatkacafe.
In the future, we want to combine the work of the institution and cooking for all who need it.

What are your dreams and plans after the victory?

The plan is to meet relatives and friends who are now far away. Restore the institution and raise the country's economy.

Our dream is shared with all of the Ukrainians: to punish the wrongdoers. Everyone who brought evil to our land.

We dream of restoring our everyday life. After the war, we will appreciate every peaceful day.
How did you start volunteering?

I am a screenwriter and director, before the war I worked at the Film.Ua film studio. On the eve of the invasion, we signed a contract for a screenplay and celebrated it until late hours. When the air defense system operated nearby, we thought that it was fireworks. But these were not. And the film industry has completely stopped working now.
When our co-founder Dmytro Revnyuk helped save the first cat, the post on Facebook went viral and more and more people asked for help with animals locked in their apartments. Rescuers and police did not respond to such calls: they were not within their qualifications and priority. So this was the first vector of our work. We found the first patrol in a day. Then there were three, five, and finally 13. We set up very quickly and planned to process all the requests in two weeks, and there were about 800 of them. But they were constantly replenished, and in three weeks we still had new ones. The crews opened the apartments with fear because they did not know if the animals were still alive. However, even in four weeks, they were alive. One cat didn't get any food for 26 days. This is a record. We recently got a cat that stayed for 38 days. The first two weeks without food, then we made a hole and fed her through it.

How many people are on the team?

There are currently about 80 people, all divided into subdivisions.
How do volunteer days go by?

There is a lot of work in my communication department: several social network profiles, interaction with the media, website that is under development. We've consulted people a lot about how to knock out a peephole in the door to feed the animal. Now there are seven of us and there will be a replenishment of the staff.

There are 13 patrols, consisting of two or three people. Patrols often include a locksmith. Although, there are patrols of filmmakers who were simply given tools, but they were never locksmiths. In total, 80% of the team are people from the film industry, show business and culture.

There are units that provide work. Coordinators who make plans for patrols. A unit of three people that deals with shelters: maintains a database of animals that need to find a home, and a list of those who want to take them. There is a person who manages the tools database.

There are those who work with food. Many organizations help us with it, and we continue to deliver to those in need. Often these are old people who have a lot of animals at home, mini-shelters. They cannot provide them now. We also feed street sterilised dogs.

Another vector of work - animals that need treatment and surgery. Often these are abandoned or beaten animals. The sums for operations are significant, but for us, the concept of too expensive is absent when you can save lives.

We also started helping the affected wild animals.
What were the most difficult and joyful moments?
At the beginning of the work there was a case with our patrol - very nice people - who were stopped by the terrorist defense and taken for looters, the girl was knocked to the ground, threatened to be tied to a pole. At first there were many such misunderstandings. The fact that we are volunteers and save animals was perceived with distrust.

The hardest part is with parrots. They are in cages - they cannot be fed through the door. The mistress of one parrot did not allow to cut the door hinges. While the keys were being sent by Nova Poshta, he ran out of water and died.

A difficult case was with a dog, to which the patrol made its way for several days. He is currently in surgery because he was injured. His legs were broken and one was amputated. His name is Martin.

It was extremely joyful when the cat that was locked for 26 days was alive. It is joyful every time the animals leave the apartment, overcome the reinforcements and shattered concrete, malnourished, trembling, but alive. And immediately start purring.
What help do you need now?
For your knowledge. People should know that we can be contacted when they see an animal in trouble. 99.9% of applications we receive are from social networks. We need to build an algorithm of work and knowledge. We are infinitely grateful to everyone who talks about us.
For the first month, we did not accept financial assistance even from grateful owners. We had enough of our own resources. Now we also sponsor the treatment of animals, which often requires 30 thousand UAH and upwards. Therefore, we began to accept financial donations.
What are your dreams and plans after the victory?

Now my only dream is our victory. And to save as many lives as possible - people, animals, all the beautiful. My dream is to return to the industry and make another film. I believe that culture will begin to revive rapidly as soon as we begin to rebuild our cities.
How did you start volunteering?

On February 28th, we decided to work and help - and on March 1st, the team was already cooking the first few hundred servings.
How many people are on the team?
At the moment - 17. We plan to have up to 30 people on a team in the coming weeks.
How do volunteer days go by?
The everyday life of a volunteer, in my opinion, is to do what you do best. That is why we are looking for people with professional experience that corresponds to the position. When everything is in place - the work is efficient and fun. Especially when everyone knows why they are doing it.
What were the most difficult and joyful moments?
The hardest part is planning. Everything is constantly changing and you need to maneuver to achieve the desired goal. And to relax - in some positions there are no days off, and many people always want to do more. In order not to burn out, you need to set your boundaries and rest: both from work and from the news. Honestly, when you work morning till night every day, you just don't have enough time to read the news.
What help do you need now?
Join our team on vacant places. Currently, it's the logistics manager, city residents application manager, meds scout, PR and content manager. Or support us financially: donate.purenaive.com
What are your dreams and plans after the victory?
First, meet the entirety of family and friends who will return to Ukraine. And immediately go somewhere within Ukraine to have a rest.
How did you start volunteering?

The volunteer group was organized on the first day of the military invasion.
How many people are on the team?
The team has dozens and hundreds of caring people in all parts of the world.
How do volunteer days go by?
We are cooking and taking it to the defense forces and to everyone in need. Volunteers' day-to-day life is responsibility, organization, and determined actions.
What were the most difficult and joyful moments?
While the battles for Ukrainian lives continue, I do not want to talk about the moments, it is too early.
What help do you need now?
Strive to be useful to society in any situation. Join the ranks of caring responsible people, aspire to become stronger, smarter, and more beautiful every day, and join our trainings. We plan to resume them soon. We meet every Sunday.
What are your dreams and plans after the victory?
We are working on plans. I dream a lot because we wish only the best for our country.