VISUAL RECYCLING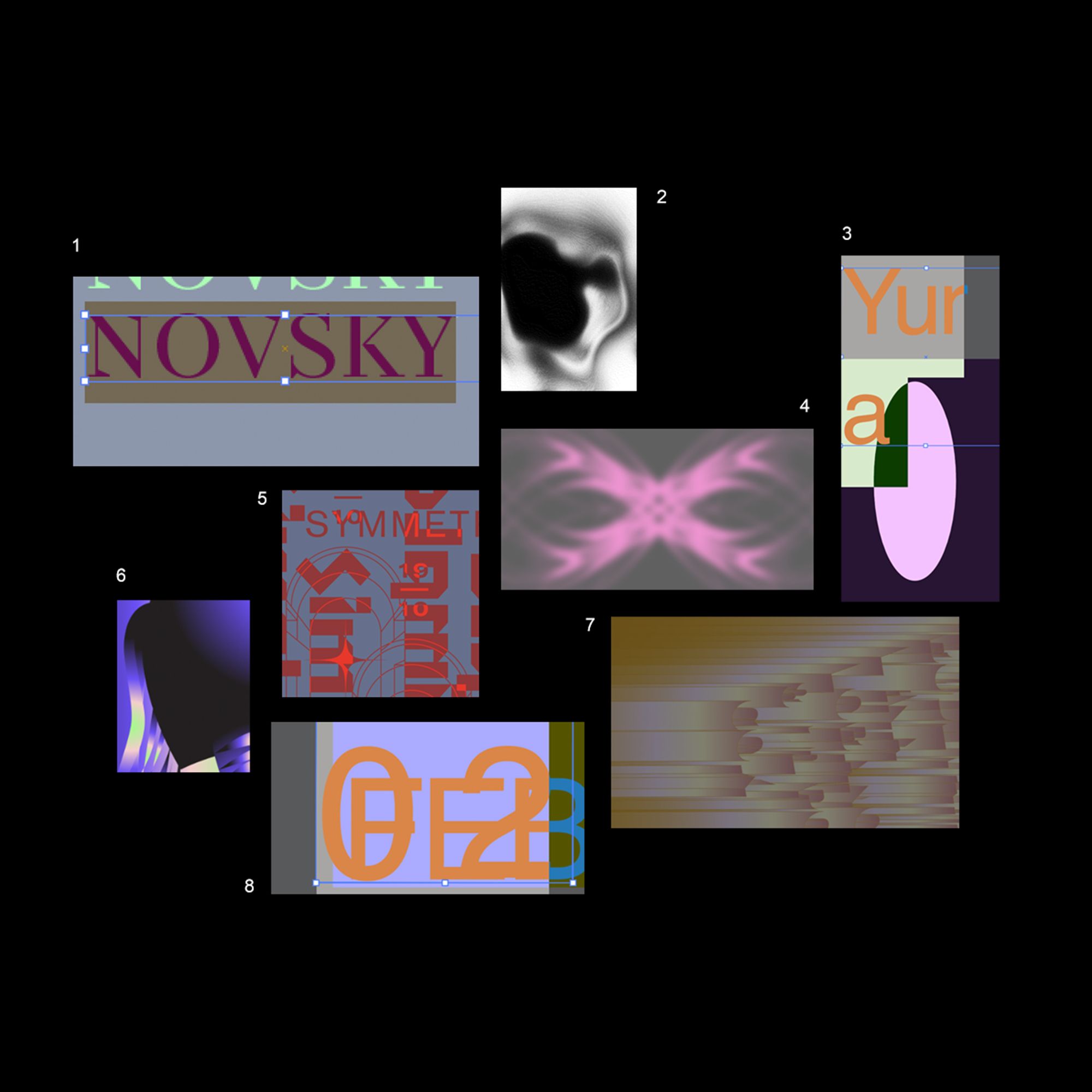 13.04.2020
Written by Kseniia Stavrova – multidisciplinary designer and art director; co-founder of Orka Collective; designer of M0D44.
The world recycling is everywhere nowadays, on each package, each label, included in each brand story (okay, almost everywhere). It is something common, a necessity — does anyone dare to start a non-sustainable project today at all? Anyway, it made its way from 'trendy' to 'must' long ago. But I am not going to speak about recycling. Visual recycling I am going to talk about is not recycling in its common sense. We use this term in Orka Collective to describe some principles and ways of design thinking. More likely, we are not the only ones using it; surely, we are not the only ones using these methods. It can be easily integrated it in any working process and is really useful and inspirational for everyone involved in making visual content. There is nothing new in these techniques alone, my intention is just to put them into a system which can be easily applied by everyone.

Basically, to integrate this method in your workflow, all you need is to start thinking in categories of 'normal' recycling — collect, rework, reuse, recycle — in terms of your graphic works. Let's take a detailed look at each point.
Collect
When you are working on something, you generate a lot of mess, by-products of working process, visual waste. Random combinations, accidental matches, unused elements — a lot of these are left unused after the work is done. Do not through scraps away! A lot can be done out of them. Collect and keep them, make screenshots of great color matches, random overlays, combinations or visual effects you occasionally get. It is hard to plan or consciously create such randomly organised compositions, as one can get by pure chance.

Find things which attract you visually and start collecting them, on- or offline. It could be anything, tickets, fruit stickers, cards, clothing labels, trashy advertisements… You can take a lot out of such materials. Especially now, when there are no laws and no borders in visual and everyone is open to new and diverse aesthetics.

F
otos from my personal archive of Technical Aesthetics
Rework
Do not hesitate to rework or use elements of your own works again. Self-quoting is good! Reworking of elements you have collected in the previous point is another great option. Tear what you have found apart, rebuild, re-compose and make everything you need out of it.

Label design for m0d44, based on technical graphics
Reuse
Random low-quality old book scans from The Commons on Flickr? Yes, please! This is my permanent source of materials for graphic works. The Search function usually works so weirdly (if works at all, because no one worries about cataloguing and tagging enormous amounts of digitalised information) that you very likely will not be able to find anything you need. If you are looking for a particular picture. Enjoy the process and just look for anything. It is like coming to a flea market with no idea what to buy— you can find treasures if you keep your eyes open. Random combinations of search results alone can look great and can be integrated in your work or be a source of inspiration for a composition. Reuse existing old and forgotten pictures and save them from digital oblivion, where no one is aware of their existence.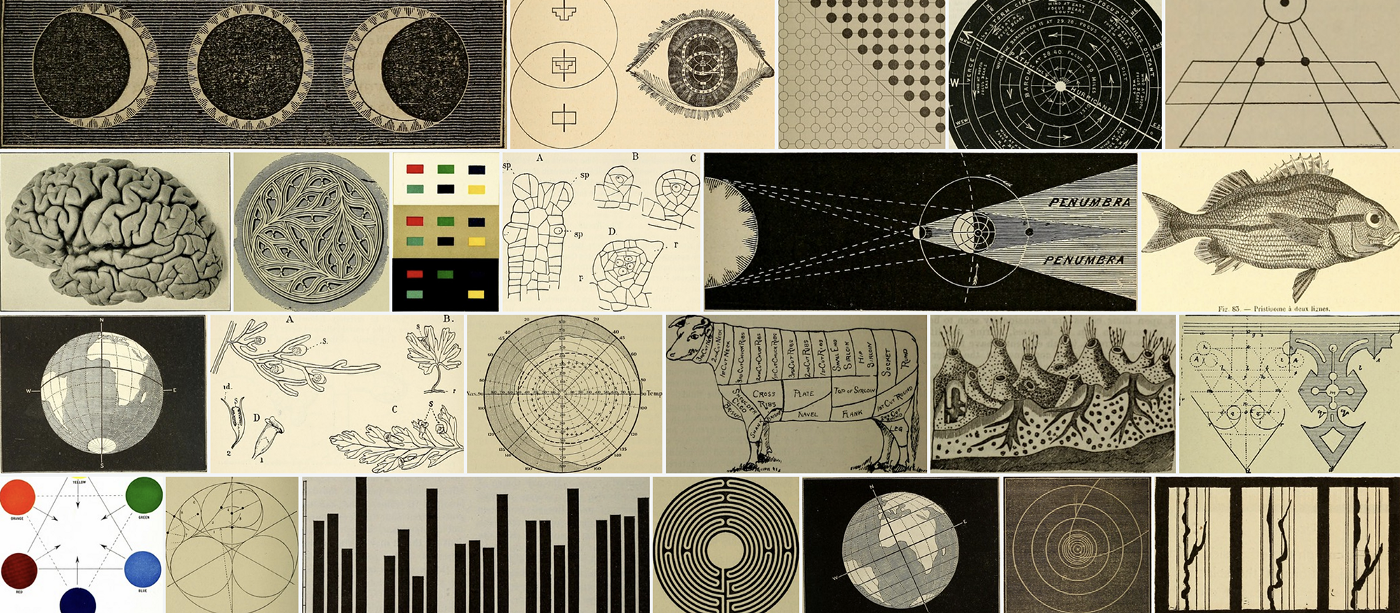 Examples of my random search results on The Commons


Please note: most of pictures published in Commons can be legally used in this or that way, but do not forget to check terms before using any — it is always indicated in photo credits.


Recycle
This actually covers all previous three points together. Keeping previous three points in your mind, you can recycle almost all kind of visual information or imagery of any available quality into something entirely different and new. And you do not even need to fully control the process. One of the bonuses, or rather positive side effects, of visual recycling method is that it really helps to untighten your perfectionism and 'control-freakness'. I myself have always had problems with over-controlling things, fear of mistakes and random situations. But in this case you use their own weapon against the enemy. Randomness does not take control over your works anymore, but it is you who control randomness and decide, what can be incorporated in your work and how. For me, it has been a great discovery and relief that you do not need to always have an understanding or vision of how the final result could look like, when you start working. Being open to randomness, you start seeing things differently, noticing things you do not usually notice, looking at sides and in corners which normally do not attract attention and finding your inspirations there — actually, everywhere.
In conclusion: below are some links to Instagram accounts, dealing with visual collecting or visual recycling, which I especially like and recommend:

Micah Lexier

Kerbside Collection

Одяг з Европи

Berlin Street Graphics

Fruit Stickers

Zak Jensen

GuyGuyGuy

Marunosain Collection

And my own contribution and acceptable self-advertisement: Technical Æsthetics